Teas and Shes
On a recent Sunday, we visited the antique and art area of Insadong in Seoul. Delicious, chilled fruit punch was the order of the day at the Gyeong-In Traditional Teahouse. The place is overlooked by clusters of skyscrapers, but you'd hardly know it from the inside. The place is lovely, with a central area surrounded by other little art galleries and shops. After we'd finished our bowls of chilled watermelon, cinammon, and citron juice sprinkled with pine nuts, we strolled around the shopping street to check out the antique and other traditional-arty places in the area which was apparently also known as 'Mary's Alley' (no, I don't know why).
There are lots of vendors selling trad-style snacks, including large, yellow, disc-shaped things on sticks which are made from of a melted sugar paste into which various shaped have been stamped with a biscuit cutter. The trick is to eat the thing without damaging these shapes. If you do so, you show them to the vendor and he gives you another one FREE! It's possible, but a LOT more difficult than it sounds. You'd get fat practicing this particular traditional skill, but it'd be fun.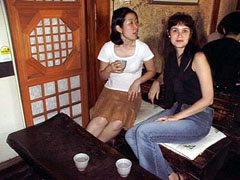 Flatland.
FLATTERY GET YOU. EVERYWHERE. More than 1 in 4 Koreans lives or works in the greater Seoul area, so that gives the city a daytime population of about 18 million. Most Seoullites live in huge complexes like this one, which blanket the land in some areas as far as you can see. It's quite a sight - and site. These things are like dominos, stacked up against each other from horizon to horizon. Still, they're generally in decent nick and there aren't really any tenements or slums to see. We don't live in this kind of area, though. To refresh your memory on that front, click here.