Malaysia
(November 1998)
Leaving Korea for what we thought was the last time, we headed for our first real holiday in two years: Malaysia and Thailand.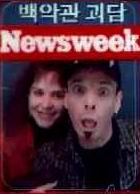 "HANNANS TO LEAVE KOREA" said the local Newsweek. Apparently.
| | |
| --- | --- |
| | BLONDE AMBITION. Yes, I'd dyed my hair blonde a week before leaving for SE Asia, so my 'look' had changed a tad. We spent a week or so in the capital, Kuala Lumpur, where we stayed in Chinatown. Our brushes with officialdom at the Taiwanese Embassy's Visa Office were supplemented with daily strolls down to the rather excellent Central Market for a bit of a buying spree for software and crafts. I bought a game called Commandos which I'd seen someone playing at an Internet cafe in Korea, and that bloody game took me 5 years to finish! Local excursions were a strange experience because the Malaysians reminded us a lot of the types of people we'd lived amongst for years in Cape Town. Similar appearance, culture etc. Not too surprising when we remembered that this was where the Cape Malay community had come from hundreds of years ago. Good nosh, nice people. Can't complain, really. |
| | |
PIGEON-TOED. One of the most interesting things to see anywhere in this part of the world is the Batu Cave outside KL. It's a huge hollow hill which has become the site of a massive annual pilgrimage to the Hindu temple it contains. The place is always full of monkeys and tourists, with a constant rain of water from the tips of tree roots hanging from the roof of the cave. Awesome. Except for the LOOONG struggle up the steps to the cave mouth... and the flocks of pigeons which make London's Trafalgar Square ones look a bit undernourished.

Have a look at what another tourist thought of the caves here.
After that, it was onto an overnight train from KL which took us across the border into Thailand and the cement-strewn border town of Hat Yai. This was where we arranged a day-long minibus trip to the island of Phuket, the first of 5 visits we'd pay to the place...
---------------
You've got here via our Homepage (logically), but there's more...
Catch up with things Hannan-wise on our latest news page.
Trawl our exhaustive, multi-picced News Archive.
See more about the Countries we've visited.
And since you're here, why not
send us a quick note by
clicking right here.

COPYRIGHT. Wotcher. Almost everything on these pages belongs to US. It's ours and we do not allow you to use it unless we've told you you could. If there's anything here that you think belongs to you, then contact us and tell us. Otherwise. hard cheese.