Radio and More.
After the commotion with the SABC, I moved back into formal radio consulting and helped establish several new radio stations. Then came the pitter-patter of itchy feet...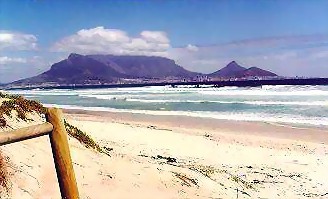 BACK TO THE MOUNTAIN. In early 1996, we moved to my birthplace of Cape Town after I and Radio Algoa parted ways, and I decided to spend my time off-air helping new stations set up at a time of broadcast liberalisation in South Africa. While I was doing that, Laetitia started teaching English at a foreign language school in the city. I started looking for new radio projects that needed a Project Manager...
Radio Unitra/UCRFM
| | |
| --- | --- |
| | By happy coincidence, I was contracted to head right back to the city that my family had called home since the mid-80s: Umtata, capital of the former Transkei. I spent five months there helping the University Of Transkei establish its own radio station, UCRFM, which went on to become one of the most successful community stations in the country. |
And Other Projects Grew
After I returned to Cape Town from the Transkei toward the end of '96, I started setting up the country's first dedicated radio broadcasting course at Technical College level, as well as assisting other radio stations with their projects. I pooled talents with another radio-head, Arn Allingham, in Cape Town and we embarked on various radio-related projects, most notably the broadcasting courses at the Cape Town Technikon whose campus radio station was one of the places that we spent a lot of time. Arn and I also laid the groundwork for what was to become In-House Media, a successful project which he later implemented to create the satellite-delivered in-store 'radio-stations' that you can hear in music retailers and other shops across the country.

Grrrrrrrrr.

While the marvellous Cape Town lifestyle was a boon, this was also a frustrating time as three prospective new commercial radio stations enlisted my assistance with their licence bids. I provided this in return for their assurances that I'd be part of their team should they be licenced. They then gave these positions instead to relatives or 'politically correct' candidates. What this meant was that I was now seeing new radio operators start up with very little real understanding of what they were doing and my irritation was mounting every time I was offered a position on a station only to see that post go to someone's cousin or former cellmate etc.

Then Laetitia heard via a teaching colleague about the need for English teachers in Asia, and we pricked up our ears at this prospect of a complete change of pace without overheads: our prospective employers would pay for airtickets and provide accommodation! This was a chance for a complete break, and it would allow us to indulge ourselves in our love of travel while earning and experiencing something totally new in a part of the world we'd not yet been to. We made the plans and left for South Korea in November.

Our plan was to be there for a short time but that sort of changed...
---------------
You've got here via our Homepage (logically), but there's more...
Catch up with things Hannan-wise on our latest news page.
Trawl our exhaustive, multi-picced News Archive.
See more about the Countries we've visited.
And since you're here, why not
send us a quick note by
clicking right here.

COPYRIGHT. Wotcher. Almost everything on these pages belongs to US. It's ours and we do not allow you to use it unless we've told you you could. If there's anything here that you think belongs to you, then contact us and tell us. Otherwise. hard cheese.