IN 1994, I WENT BACK TO ZIMBABWE, BUT ON HOLIDAY THIS TIME. THE WAR WAS OVER WHICH MADE IT POSSIBLE FOR ME TO TOUR THE COUNTRY IN SAFETY, SOMETHING IMPOSSIBLE WHEN I LIVED THERE

.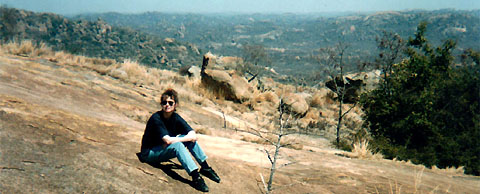 LAETITIA IN THE MATOPOS HILLS.
BACK TO SCHOOL. The first thing I did was go to Bulawayo (where I'd grown up) and visit my old school, Hillside Junior. This is me in the main quad where we used to line up after breaktime in the late 70s. We stayed in the Churchill Arms Hotel, just around the corner from where we used to live in the early 80s.
FALL GUYS. After that, we drove up to Victoria Falls for a completely excellent couple of days at the Vic Falls hotel.

Despite the fact that I'd lived in the country between 1974 and 1984, I'd never had the chance to see its sites because of the war, so this was my first opportunity to travel the country safely. It felt great.
| | |
| --- | --- |
| TOM=CRUISE. If you've got the tom (money) for it, then you HAVE to try the sundowner cruises on the Zambezi River, where you do your best to fit the Hippo and elephants in between the rounds of Gin & Tonic. Yum. | |
| GREAT ZIMBABWE. Then a hot dash across the country to what's one of the only ruined cities in southern Africa, Great Zimbabwe, where I bought an excellent cobra-headed hiking stick. We also stayed at what used to be known as Lake Kyle (yes, really) in the Rhodesian era. I have no idea where the name came from, but my school friends never stopped ribbing me about the coincidence. | |
| HOME AGAIN. After Mutare, the Eastern Highlands, the Troutbeck Inn in Inyanga and other nice things, we drove back to Bulawayo where we caught our return flight back to SA. Note the glass bottles on the table here at the airport - Zimbabwe still recycles all its bottles. | |
---------------
You've got here via our Homepage (logically), but there's more...
Catch up with things Hannan-wise on our latest news page.
Trawl our exhaustive, multi-picced News Archive.
See more about the Countries we've visited.
And since you're here, why not
send us a quick note by
clicking right here.

COPYRIGHT. Wotcher. Almost everything on these pages belongs to US. It's ours and we do not allow you to use it unless we've told you you could. If there's anything here that you think belongs to you, then contact us and tell us. Otherwise. hard cheese.