June to September 2006

.
We're a bit slack so this is a 4 months-in-one update. Not that we've changed the world in that time but things have been happening as they do and here's some of what DID go down in these months.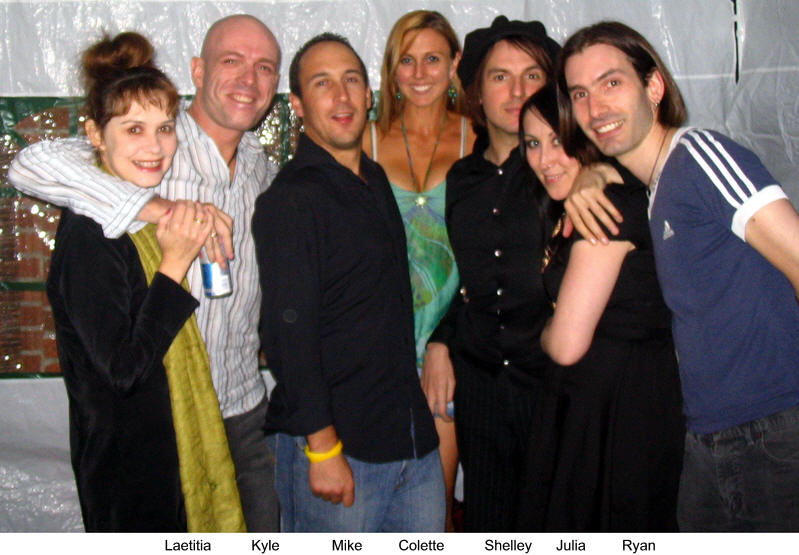 We Are Family! One of my cousins, Colette, had a birthday party at home in Kingston-upon-Thames recently and was joined by a group of her Hannan relatives, namely two of my London brothers Ryan and Shelley. We don't get the chance to see each other much so it was a good photo opp. Here we are with Colette's hubby Mike and Shelley's excellent girlfriend Julia.
| | |
| --- | --- |
| | Bestival. This is me with Phil, one of the directors of the new radio station we're launching in Bristol next year. It's taken at the Bestival on the Isle of Wight, where we were setting up their Festival radio station (we do this for the Glastonbury Festival too every year). The Bestival is a three-day MUST and was intense fun. |
Latest Mews. Or Miaows...

We're cat owners again. This really nice moggie has been adopted by ours truly after hanging around the area for more than a month. It's about a year or so old, we've decided that it should be called 'Purrrnikitty' (rather than Rover or Fido) and is the most obedient thing on the planet, quite a marked contrast to the wall-bouncing street cat Tiggy which we attempted to domesticate in Taiwan back in 2000 (see this page for a reminder).
Giving Tanks.

Being a huge military history buff and an avid war games fan (on computer as well as on tables), every year I visit the world's biggest tank museum for a look at their live action tank displays. This time they had their World War 2 US Sherman out and about, along with a current German Leopard and a British Chieftain also going through their paces. Once the tanks had come in and parked, we got the chance to chat to the crews and grab some quality hands-on time with the vehicles 'in the metal'. Good, good stuff.
| | |
| --- | --- |
| Birthdays. Both L and I have birthdays within a month of each other and spent mine with long-time friend and former SABC colleague Kevin Potter who's now managing the opening of a new radio station in Bournemouth. Here we are with him at the famous Bankes Arms on his new home turf of Studland on Purbeck Isle in Dorset. A very, very nice place (see here) | |
---------------
You've got here via our Homepage (logically), but there's more...
Catch up with things Hannan-wise on our latest news page.
Trawl our exhaustive, multi-picced News Archive.
See more about the Countries we've visited.
And since you're here, why not
send us a quick note by
clicking right here.

COPYRIGHT. Wotcher. Almost everything on these pages belongs to US. It's ours and we do not allow you to use it unless we've told you you could. If there's anything here that you think belongs to you, then contact us and tell us. Otherwise. hard cheese.