To the end of 2006
A manic few months as I am suddenly put in charge of a pioneering radio station project.
One thing leads to another.
In November 2006, I was contracted to project manage the opening of the UK's first Jewish-Muslim radio station. Then they made me Station Manager. Their website's at www.salaamshalom.org.uk. We managed to do about 6 months' work in 6 weeks, which meant SOMEONE was thinking about taking a holiday by the time year-end rolled around...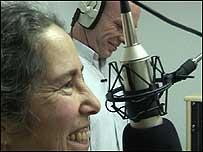 The project's attracted mountains of press interest. For a start, you can watch the BBCTV feature about us on YouTube. Part 1 is here and Part 2 here.
Christmas BASH

One of the things I do with my weekends is present shows on a satellite radio network for a company called Immedia. Moving towards Christmas meant a company night out in Reading, featuring carousing and dodgems.

(Note to self: must try to keep mouth closed in pictures...)
---------------
You've got here via our Homepage (logically), but there's more...
Catch up with things Hannan-wise on our latest news page.
Trawl our exhaustive, multi-picced News Archive.
See more about the Countries we've visited.
And since you're here, why not
send us a quick note by
clicking right here.

COPYRIGHT. Wotcher. Almost everything on these pages belongs to US. It's ours and we do not allow you to use it unless we've told you you could. If there's anything here that you think belongs to you, then contact us and tell us. Otherwise. hard cheese.