April 2006

.
Our 20th anniversary as a couple, one of my brothers Darrell takes some time off from his London record shop managing-career to take a break in the West Country, and some musical socialising too.
WSM Panorama. Courtesy of my phone's camera, which has a nifty little 'panorama' feature which I've used here. That thing in the middle is Knightstone Island. Another view shows the island on this ancient postcard at bottom right of the pic. The red dot shows where we now live - about 8 minutes walk from the beach.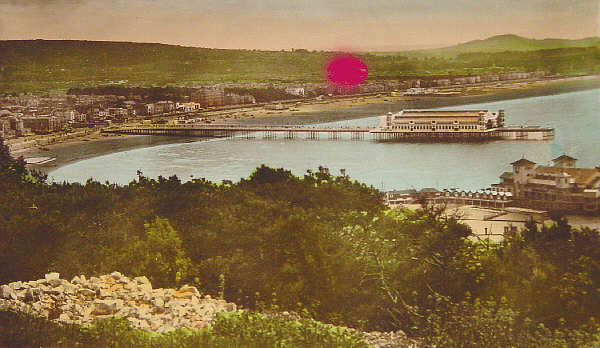 We're 20.

Time flies when you're having fun. April was our 20th 'birthday', a way of marking our anniversary as a COUPLE rather than just our wedding anni. We always try to go somewhere distinct for this occasion - so far it's been Thai beach restaurants, canalboat gourmet haunts in Bristol etc etc - and this time we chose the rather awesome Thornbury Castle. It's a 15th Century Tudor Castle and their website is worth a look if you're a bit far away for a visit.
A Quick History Lesson. Just in case you need reminding, we met as students and the whole story's on our website here
Where it all started.

This is the place where we really got going as a couple. It used to be a student digs in our 'Varsity town in Grahamstown, South Africa. We went there for a Halleys Comet party in April '86. Very late that night we jostled for a space on the stairwell (on the left) to rest our sky-strained necks where one thing led to another and the rest is history. The building's now a famous guesthouse...
That's Enough About Us...
They're Jammin'.

A housewarming party featuring Tom on guitar and Ben in hat, former colleagues of mine from Bristol. On the right, Imogen and blonder Julia are also friends and more - Julia is marrying Tom later this year!
Darrell Comes To Town

Running record shops in London for a living is not entirely restful so Darrell popped down for a few days' break in the West. He enjoyed it and even walked on the beachfront at WSM declaring it "not entirely crap!!!" Bristol knocks London for a six too, natch.

He'll be back, obviously.
---------------
You've got here via our Homepage (logically), but there's more...
Catch up with things Hannan-wise on our latest news page.
Trawl our exhaustive, multi-picced News Archive.
See more about the Countries we've visited.
And since you're here, why not
send us a quick note by
clicking right here.

COPYRIGHT. Wotcher. Almost everything on these pages belongs to US. It's ours and we do not allow you to use it unless we've told you you could. If there's anything here that you think belongs to you, then contact us and tell us. Otherwise. hard cheese.