SPRING PICS. When the weather's good, I just HAVE to go and take pictures. This 250 year-old Church is really nice in almost all weathers, and looks brilliant with the greenery and blossoms of Spring around it. I reckon I should sell this photo to the local tourist authority - could make me a few shekels...

Or not. Anyhow, you get to see it first.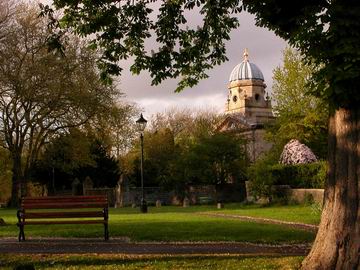 WARS. Got into a taxi the other day on my way to catch a train to London and noticed that the driver looked like a Middle Eastern bloke, plus he was listening to war reports on the BBC, so I asked him if he was from Iraq. He was, from Baghdad, so we chatted about the situation and he was all for the overthrow of Saddam, whatever the cost. Not too much later, this thing in Iraq - whatever it later turns out to be - seems to be over bar the shouting (which would probably be something along the lines of "Roll up, roll up! Ancient Sumerian scrolls going cheap here!"). Amazing that there are people who moan about the 'imperialist pillaging of cultures by centuries of Western museums' exploitation" but then go ahead and loot their own society back into the stone age. An interesting future beckons, especially since there's really nothing to remind them about their past anymore.
SARS. Nothing to sniff at. There's no way that anyone can just laugh off a runny nose and a gobby cough anymore but, for God's sake, cigarettes kill more people every day than this new virus, and you don't see people stopping suspected smokers from getting onto aeroplanes, do you?. Mind you, there's a concept...
BARS. My work takes me into bars, restaurants, clubs etc and it's really nice to get an inside track on the kinds of places that I'd be quite keen to eat, drink and otherwise be merry in. I'm back in my black suits but this time I'm out of the waistcoats and the ties - a concession to a slightly less formal attitude. That, and the beers.