2002 Part Three. September
The Chuseok Holiday (Korean Thanksgiving), more floods and hurricanes, momentous landmine-clearing starts in the Demilitarised Zone, some thoughts on local car lifestyles, and we finish our Asian stint...
| | |
| --- | --- |
| | CLEARING PRESENT DANGER. After 50 years of being technically at war, the North and South Koreans have started to make a start of clearing the millions of landmines that make the border area the most heavily militarised part of the world (which we have visited too!) |
| | |
| --- | --- |
| CHUSEOK CHOKE-UP. The Korean version of the American Thanksgiving holiday is what's called the Full Moon Festival in China. Everyone and his dog packs off to hometowns across the country to visit family and pay respects en masse to the memory of their ancestors. That, anyway, is the idea. The reality is more a case of angry prayers muttered under the breath whilst stuck in traffic... | |
Cars and Curls...

DRIVING MISS, CRAZY. An interesting thing about the area we live in is the proliferation of hair salons, along with the amazing number of unreasonably huge cars parked (where there IS parking) outside unfeasibly small flats. These one-roomed bachelor pads are curiously referred to as 'villas'and their residents have this thing about living large. Actually, that should be DRIVING large. We have often been told that the first thing a graduate wants to do after getting a job is buy the biggest-arsed car they can. There is this idea that a big car indicates status in life, which is the reason why there is any number of massively posey cars squeezed into alleyways and alcoves everywhere. They are probably bigger than the place their owners actually live in...

The only things competing for car space are the ubiquitous piles of rubbish bags, which grow everywhere overnight as they wait for collection. We have been told, however, than "Seoul is much cleaner than cities like Rome or Paris", so it must be okay...
Typhoon Rusa knocks the stuffing out of the country...

The night air is still thick with typhoon dust hanging in the air. Just to remind you what our area of Seoul looks like, this was taken just after Typhoon Rusa blew the hell out of Korea, causing the worst damage to the country since the Korean War of the early 1950s.
A RUSA BY ANY OTHER NAME? The first weekend of September was a wash-out. It was also a blow-out. Typhoon Rusa, the biggest one for half a century, knocked the stuffing out of the country's East coast. We were pretty much left alone in Seoul, but the rest of Korea wasn't so lucky... (see a local newspaper story about it here). These pictures are from the online edition of the Chosun Ilbo newspaper, not from my camera or my helicopter.

Total damage? About US$2 billion.

So far in Asia, we've had dozens of earthquakes (especially 1999's 7.6 disaster in Taiwan), as well as a brace of hurricanes, typhoons, floods, Siberian snows and other weather experiences which make Asia so interesting climate-wise. We seem to be pretty much ready for anything that the infamous English weather can throw at us...
I Visit Changdeok Palace...again.

PARKING OFF. One morning just before work (which only starts at 1.30pm - aren't I lucky?) I headed off for a quick tour of one of my favourite local palaces with friend and colleague Tony and his Dad who'd just arrived in Korea prior to the two of them leaving for a spell on horseback across Mongolia.

In the loosest of terms, Changdeok Palace is probably the Versailles of Korea, not because of the latter's architecture or awesomely O.T.T design, but in another way: not only is it the only palace in Seoul with a real forest on the grounds (like Versailles), but it's also got a mock farm in which the Royals of long ago could get a taste of 'commoner's life to help them feel 'closer' to the great unwashed.
September ends, we're unemployed...
And it's goodbye from him.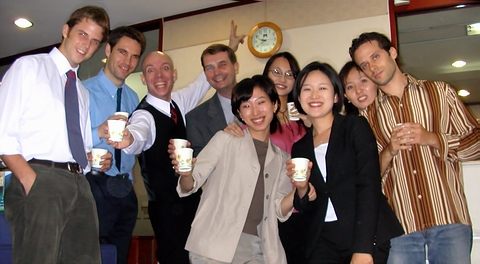 Monday 30th was it for us. On our last night's work in Asia, Kyle opens the champers and closes the door on a tres interesting half-decade in the farthest East...From left, this bunch of now former colleagues are: Stewart (Canada), Paul (U.K), me, Paul (Oz), Iris (Korea), Kiwha (Oz), Grace (Korea), our manager Lynette (Korea), and Tony (U.S).
| | |
| --- | --- |
| MY CUP RUNNETH OVER! Yes, there is occasionally a justification for champagne in this neck of the woods. The end of September marked the beginning of the next phase in this thing called 'life as we know it', and there was a case to be made for the presence of bubbly - and not just on behalf of our former employers who were dead keen to see the back of us. After popping that cork, we headed off to a local kalbi (b.b.q meat/ribs) restaurant to cop that pork. | |
BYE, BYE LOVE. Laetitia waves goodbye to her workplace of a year and a half, the D.E branch in Seoul's most elite area (in local terms), Apkujeong. It was the third institute we'd said 'cheerio' to since we got to Asia in the late 1990s, and certainly the most hassle-free place we've ever worked in this part of the world.
We spent the beginning of October in a blur of activity, wrapping up our 5 years in the Far East and preparing for a stay in Europe, which began in mid-October.
---------------
You've got here via our Homepage (logically), but there's more...
Catch up with things Hannan-wise on our latest news page.
Trawl our exhaustive, multi-picced News Archive.
See more about the Countries we've visited.
And since you're here, why not
send us a quick note by
clicking right here.

COPYRIGHT. Wotcher. Almost everything on these pages belongs to US. It's ours and we do not allow you to use it unless we've told you you could. If there's anything here that you think belongs to you, then contact us and tell us. Otherwise. hard cheese.